The enclosure plays a crucial role in electronic products, not only due to the complex design of electrical components but also because clients seek an exquisite enclosure. Enclosures have become increasingly popular due to their benefits, such as electrical conductivity, emission reduction, and resistance to harsh industrial environments.
Sheet metal fabrication aims to ensure the overall design successfully meets market and client demands while providing a positive user experience. When it comes to electronic components, high-quality enclosures play a significant role in achieving these goals. Having a good understanding of the following guidelines will make sheet metal work easier and ensure quality outcomes. Here are some tips and suggestions for reference:
Clear the Sheet Metal Enclosure Design Requirements
A good product is the result of ingenious design and scientific solutions. Several factors need to be taken into consideration:
Working conditions: This includes factors such as waterproofing, operating temperature, resistance to corrosion, vibration resistance requirements, antioxidant properties, corrosion resistance, industrial or food-grade standards, maximum load capacity, etc.

Dimensional requirements: Consider whether the enclosure needs to be light or heavy, the size and weight specifications, etc.

Mounting requirements: Determine the desired mounting options, such as wall-mounting, pole mounting, tabletop placement, etc.

Component specifications: Identify the components that will be enclosed within the enclosure, including their height, size, connector positions, and any other relevant details.

Aesthetic requirements: Take into account any desired aesthetic features or design elements.

Surface treatment: Decide on the desired surface finish, whether it should be glossy or matte.

Fixing method: Consider the appropriate fixing method, such as using screws or bolts, and determine the required working force and maximum force. Also, consider options like pressed rivet nut posts or pivots.

Logo: Determine whether the enclosure should have a silk-printed or laser-engraved logo.

Color confirmation: Specify the desired color based on the Pantone color number or RAL color number.
Find the Suitable Materials for Your Sheet Metal Enclosure
Aluminum (2A21/3003/5052/5083/6061/6082/8011): 5052Al and 6061 Al are commonly used due to their lightweight and corrosion-resistant properties. They have lower stiffness compared to steel under certain conditions and are widely used in sheet metal enclosures. Aluminum alloys are easily machinable and weldable, and they can be anodized for durable and protective coatings. Chromate coating is also suitable for components that require electrical contact.

Carbon Steels (Q235, SPHC, SPCC, SPCD, SPCE, ST, ST12, ST13, ST14, ST15, ST14-T): Low-carbon steel coated with zinc and annealed, Galvanneal metal enclosures exhibit good performance in wet conditions and offer corrosion resistance based on their coating. Annealed steel is an excellent option for indoor enclosures and parts but may rust if not coated.

Stainless Steel (304, 304L, 312, 316, 317, 321, 347, 904L, 440, 17-4ph, 430, etc.): Stainless steel alloys contain chromium and nickel, providing increased corrosion resistance. They have higher tensile strength compared to aluminum and are suitable for high-impact applications in sheet metal enclosures. Stainless steel often features a grained finish.

Copper (C1020, C1100, C2100, 2200, 2300, 2400): Copper is widely used in electrical applications due to its excellent thermal and electrical conductivity. However, its softness makes it unsuitable for enclosures and more suitable for bus bars or miscellaneous parts.

Brass (H62, H65, H68, H70, H80, H90, C2600, C2680, C2700, C5210, C5191, C51000, QBe2.0, C1100, T2): Brass, like copper, is commonly used in electrical applications. It exhibits excellent thermal and electrical conductivity but is not typically used for enclosures. It is more suitable for bus bars or miscellaneous parts.



Applications:
Electronics: Sheet metal electronics enclosures are used to house equipment such as servers, routers, and switches, providing protection against dust, moisture, and electromagnetic interference.

Telecommunications: Custom electronic enclosures are utilized by telecommunications companies to house power supplies, battery backup systems, and communication equipment. These enclosures protect the equipment from weather conditions and vandalism.

Medical: Sheet metal electronic enclosures are employed to house medical equipment, including diagnostic machines and laboratory equipment, safeguarding them from external elements.

Industrial: Sheet metal enclosures protect industrial equipment from harsh environments like dust, heat, and chemicals. They are commonly used to house control panels and electrical equipment.

Military and Aerospace: Custom sheet metal electronic enclosures find extensive use in military and aerospace applications, safeguarding sensitive equipment from harsh environments and electromagnetic interference.



Choose the Right Shape of Your Custom Sheet Metal Enclosure
Considering the shape of the enclosure is essential before production, especially during the system design and PCB level processes, to avoid common defects. Additionally, designing cost-effective, functional, and aesthetically appealing enclosures can be achieved through the utilization of common shapes. Here are some advantages of each shape: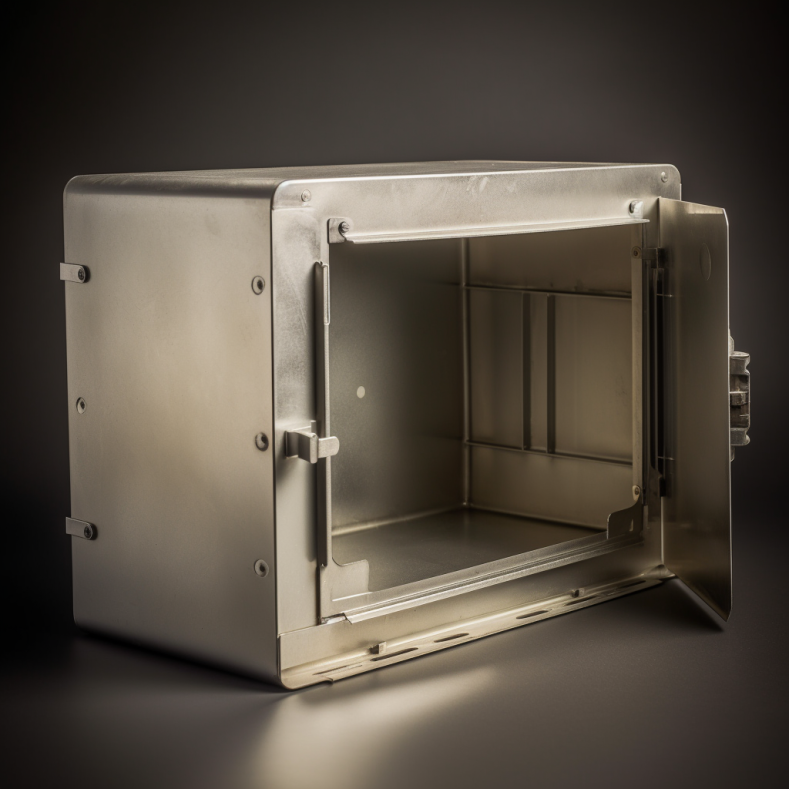 Folded box shape:
Classic four-sided box with a lid.

Allows for easy access during service or maintenance.

Provides a wide range of mounting options.
U shape:
Simple enclosure design for easy production.

Features a solid base for stability.

Allows for easy access during service or maintenance.
L shape:
Similar to the U shape but more suitable for PCBs with connectors on opposing sides.

Simple to produce.

Provides easy access during service or maintenance.



Special shape:
Customized enclosure with a unique shape, such as a hexagonal shape or combination shape.

Provides flexibility in design based on specific requirements.



Considering these common shapes can contribute to the successful production of cost-effective, functional, and visually appealing enclosures.
Understand the Thickness of Sheet Metal
(1) Electro-galvanized steel (SECC): SECC is resistant to fingerprints and offers excellent corrosion resistance. It can be easily painted while maintaining the processability of cold-rolled sheets. Available thicknesses (mm): 0.8, 1.0, 1.2, 1.5, 2.0.
(2) Cold-rolled sheet (SPCC): SPCC does not have inherent rust resistance and does not require surface plating or baking paint. Available thicknesses (mm): 0.8, 1.0, 1.2, 1.5, 2.0, 3.0.
(3) Galvanized Steel Sheet (SGLD): SGLD is a multi-phase alloy that contains aluminum and zinc-rich material. It offers a beautiful appearance, scratch resistance, corrosion resistance, and higher capacity compared to SGCC. Available thicknesses (mm): 0.8, 1.0, 1.2, 1.5, 2.0, 3.0.
(4) Aluminum sheet (AL): AL has lower strength but excellent forming properties. It is easily weldable, offers corrosion resistance, and has good heat dissipation capabilities. Available thicknesses (mm): 0.8, 1.0, 1.2, 1.5, 2.0, 2.5, 3.0, 4.0, 5.0.
(5) Hot-dip galvanized steel plate (SGCC): SGCC provides a beautiful appearance with two types of zinc flowers. Small zinc flowers are difficult to see, while large zinc flowers are more noticeable with hexagonal flower blocks. It offers corrosion resistance, paintability, formability, and spot welding capabilities. Available thicknesses (mm): 0.8, 1.0, 1.2, 1.5, 2.0, 3.0.
Finishing Options For Sheet Metal Enclosure
Plating:
Mild steel: Zinc plating offers corrosion protection but does not improve the appearance, so paint is often required.

Aluminium: Chromate conversion can enhance corrosion resistance and electrical conductivity but is prone to marking. Anodizing creates an oxide film on the surface, making it more scratch-resistant and durable. Other plating options include electroplating, polishing, brushing, and Alodine treatment.
Painting:
Wet spray (rarely used): Provides a smooth or textured finish but requires a highly skilled operator.

Powder coat: Easier to apply, highly durable, and available in a wide range of standard colors and finishes.
Labeling:
The choice of labeling method depends on the enclosure design.
Screen printing: Costly for multi-color designs as each color requires separate screens.

Digital print: Works well on flat surfaces but may have height restrictions.

Decals or labels: Offers a wide range of options.

Laser marking: Provides indelible, monochromatic labeling.