What is Sheet Metal Bending?
The process of Sheet Metal Bending involves transforming a flat sheet of metal into a V-shaped opening. To achieve this, the workpiece is positioned onto a concave die that has a V-shaped opening. Subsequently, a wedge-shaped tool (knife) applies pressure to the workpiece, pushing it into the V-shaped opening and bending the plate to the desired angle.

HSJ Sheet Metal Bending Process
The bending, or press brake forming or folding, is a forming process in which the plastic deformation happens over an axis. Bending does not normally change the thickness of the sheet metal.
Punches and dies press brakes are used to perform this process. A die can be a lower V- or U-shaped tool. The plate is pressed into the die to made a bending part.
The CNC controls of our machines will precisely regulate the lowering depth and helps to maintain the minimum bending radius.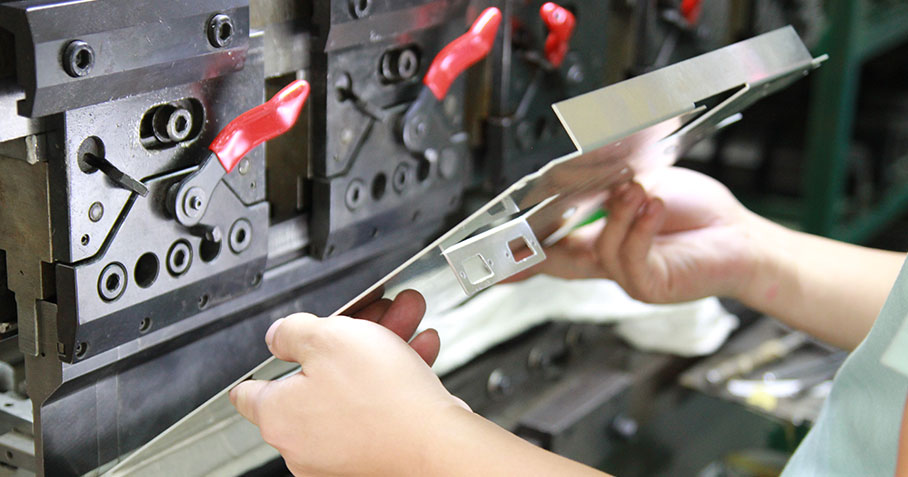 HSJ Custom Sheet Metal Bending Servies
HSJ offers professional Custom Sheet Metal Bending Services with seven different methods available:
V-bending - this method involves using a v-shaped die and punch to bend sheet metal to achieve acute, obtuse, or 90° bend angles.

Air Bending - leaves space (or air) underneath the sheet, allowing for more bend angle control than conventional v-bending, resulting in higher accuracy due to less springback.

Bottom bending - this method requires a higher tonnage press to achieve precise bend angle control.

Wipe Bending - involves holding the sheet metal against a wipe die via a pressure pad, and using a punch to force the edge of the sheet beyond the die and pressure pad, causing it to bend.

Roll Bending - uses sets of rollers to feed (and bend) the metal stock into rolls, tubes, cones, or curved shapes.

Rotary Draw Bending - the sheet metal is clamped to a rotating die and drawn around the die to form a geometry that matches the desired bend radius, with an internal supporting mandrel to prevent wrinkling on the surface and minimize the risk of scratches.

Customized Shape Bending - HSJ accepts custom one-piece molding requests for high-efficiency production.
Custom Sheet Metal Bending Tolerances
| | |
| --- | --- |
| Description | General Tolerance |
| Blank plate Size | 10' x 20' (3m * 6 m).Accept customized size |
| Standard Lead Time | 3-7days |
| Thickness range | Normally 0.024'' - 0.250" ,also can do customzied thicker or thinner |
| General Tolerances | Flat parts, +/- 0.010" on edge to edge, edge to hole, and hole to hole features; +/- 0.010" on bend to edge/hole features. For multi-planed bent parts, +/- 0.030" for hole to hole/edge, edge to edge, and over-formed parts; +/- 1 degree for bend angles. |
| Braking | 10' length, fingers from 3" - 6" |
Custom Sheet Metal Bending Materials
Materials of sheet metal bending parts. Those bending metal plates include SGCC galvanized plate, SECC electrolytic plate, SUS stainless steel (model 201 304 316, etc.), SPCC iron plate, white copper, red copper, AL aluminum plate (model 5052 6061, etc.), SPTE, spring steel, manganese steel.